Stop Press! Our Head Coaches Sharon and Mark won the Coach of the Year 2018 from the East Fife Sports Council Awards! See more details under our Celebrating Success tab. Huge congratulations to them both – a well deserved win!
Our 90th Anniversary Club Champs take place Thursday the 22nd March from 6.30pm and Sunday the 25th of March from 11.45am – we look forward to seeing you all and some fantastic swims from our swimmers! More details on our new Facebook page – see home page for the link.
We at Steprock Amateurs Swimming Club are celebrating our 90th Anniversary this year, 2018 – click on our 90th Anniversary tab for details about our planned celebrations!
Our 90th Anniversary Book is now on sale for £10! Purchase during our Club Championships on Sunday the 25th of March or email treasurer@steprock.org.uk or call 07552 632777.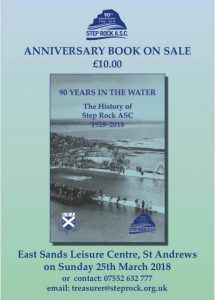 Click here to follow us on Facebook.
Our sponsors are:
New St Andrews Japan Golf Trust