Club Championships 2018
Take the opportunity to buy the just-published Step Rock 90th Anniversary Book at the Club Champs on the 25th of March> Here's a sneak preview: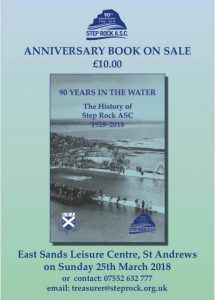 The Club Championships will take place from 12 noon on Sunday the 25th of March. Beginners Cup heats, Individual Medley (heats and finals) and Handicap heats will take place on the preceding Thursday – the 22nd of March from 6:40pm.
A list of swimmers entered automatically is included in the club champs general info. Entries closed at 12 noon on the 11th of March.
Please note alternative arrangements for Learn To Swim on Thursday the 22nd of March – there will be no teaching from 6:30-7pm that night, so any swimmers not taking part in the races that night should arrive instead for the 6-6:30pm lesson.
Any LTS swimmer taking part in the IMs or Beginners Cup will not receive lessons that night but instead should be on poolside at 6:30pm for registration, for a 6:40pm start.