The annual Step Rock Club Championships took place on Thursday the 23rd and Sunday the 26th of March 2017.  The highlight of the Step Rock calendar was a busy night and day of racing with around 80 competitors vying for medals.
The Beginners Cup saw swimmers aged 5-8 race one length. This is a real achievement, especially as some rarely get to venture to the deep end in their lessons! First competitive swims came from Emily May, Megan Stewart, Freya Edie, Lottie Niven, Orla Adamson, Comhghall Adamson, Jake Anstey, James Wright, Ben Looseley, Fergus Waterston, Finch Geary and Rowan Geary, whilst 5-year-old Carly McDonald registered a 43 second improvement on her PB! Jamie McDonald edged Oliver Taylor-Roberston to the boys' title, whilst Ellie Wilson was a clear winner over Sanna Wright for the girls' trophy.
Charlie Gillespie couldn't be in better form, taking the boys' U14 title and smashing 4 of the 5 club championship records in his age group. The boys U10 and girls U14 100m Individual Medley records also tumbled this year, these going to age group champions Beinn Anderson and Anna Hedley respectively.
The U10 girls championship was a three-way battle between Kaitlyn Lumsden, Abigail May and Ellie Wilson – Kaitlyn finally edging Abigail by just one point. Fraser Stewart and Mairi Noble dominated the U12 boys and Open Ladies categories, winning all their events. The U12 girls was more closely contested, with golds being shared amongst Isla Thoms, Kayla Bain and Anna Suttie – Isla's versatility across all strokes proved crucial and she took the title.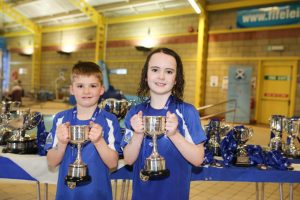 Jamie McDonald and Ellie Wilson
The final races – the handicaps – remain a puzzle to many. Swimmers can choose their stroke but must not swim too much faster than their entry times or they are disqualified, so pacing is of the essence. Gents and Ladies winners this year were Angus McCallum and Kirstin McCallum.
Club President, Ewen Sparks, extended his thanks to all the volunteers who contributed to make the event run so smoothly, to referee Ross Ainslie and to the staff at East Sands Leisure Centre.
You will find here the 2017 winners from our Club Champs, the Geordie Wotherspoon Trophy winners and Club Champ records: